Howdy folks
The Harlem Globetrotters were in Wichita Falls, Texas on Monday Feb 13th!
They are coming to your area soon check out tickets and use discount code USFAM to save 20%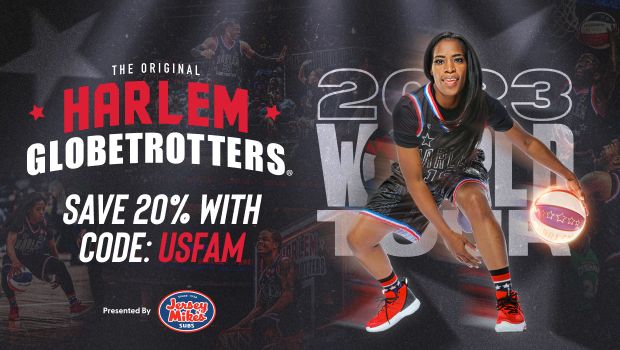 HARLEM GLOBETROTTERS 2023 WORLD TOUR - PRESENTED BY JERSEY MIKE'S

The Harlem Globetrotters 2023 World Tour presented by Jersey Mike's is coming with game like never before! Your favorite Globetrotter stars are bringing out their amazing basketball skill, outrageous athleticism and a non-stop LOL good time. Join the Globetrotters as they go head-to-head against the Washington Generals who will stop at nothing to try and defeat the world's winningest team!
In 2023, every fan is getting in on this action...that means YOU, so get ready!
It's GLOBETROTTER game time!

Coupon

https://www.harlemglobetrotters.com/world-tour/schedule
Follow the Harlem Globetrotters on Social Media
The game was full of magic, fun and laughs!!
My Favorite part was as the end of they game there is a 15 minutes autograph session!!
I got all but 2 autographs..lol
This is a great time with the family! The tickets were as low as $18 in my area!!
Thanks for stopping by Dnbusters Place! This post may contain a sponsored, affiliate, or a referral link. These links help keep this blog up and running! Thank you for supporting my blog!